CBIC`s Agency
12/04/2019
Enic trará palestra do futurista e co-fundador da Aerolito Tiago Mattos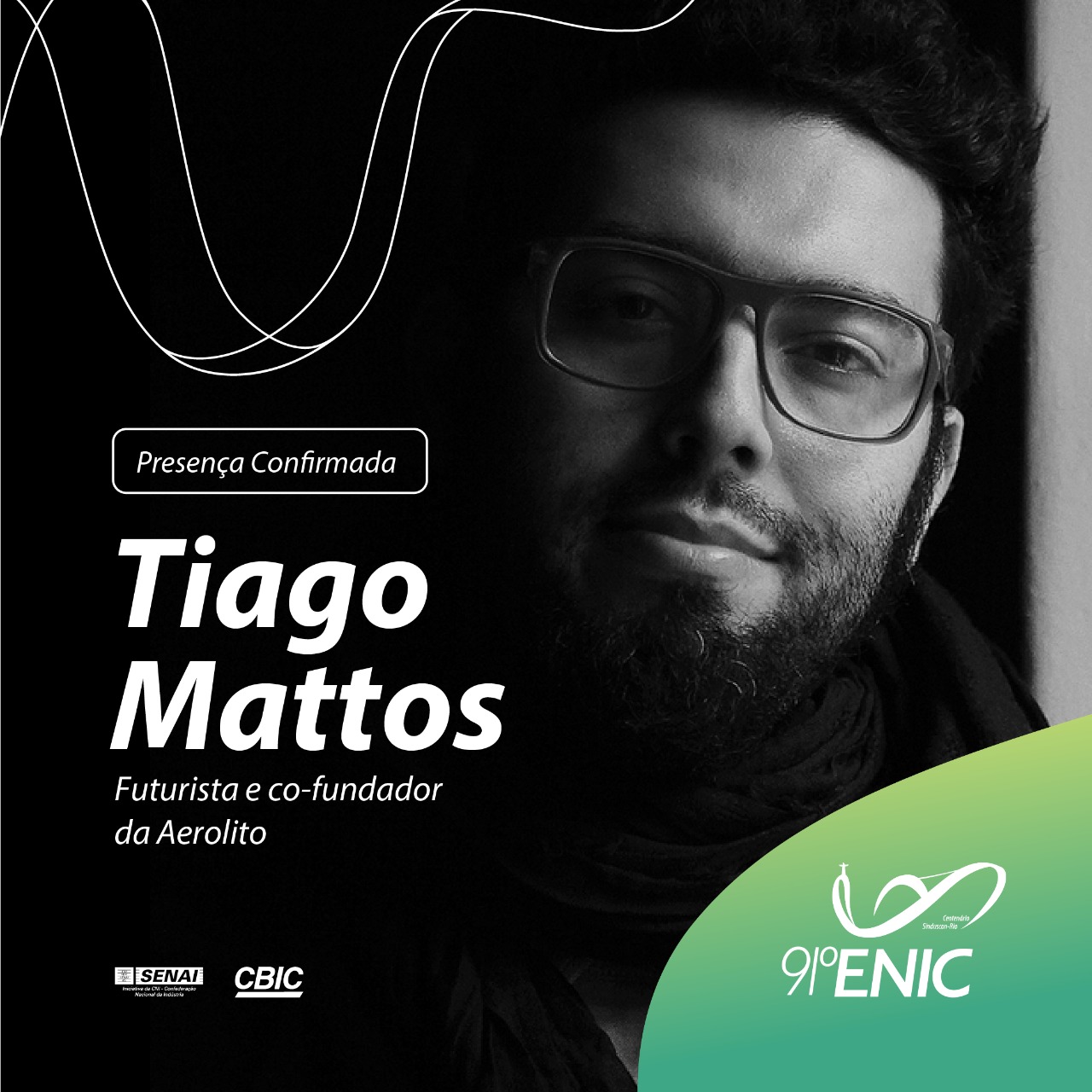 Está confirmado o primeiro nome para o congresso técnico de engenharia que ocorrerá durante Encontro Nacional da Indústria da Construção (Enic) deste ano: o futurista e co-fundador do Aerolito Tiago Mattos será um dos palestrantes. O congresso é uma das novidades desta edição do Enic, que ocorre de 15 a 17 de maio, no Rio de Janeiro. As inscrições estão abertas.
O congresso será em 15 e 16 de maio, simultaneamente às atividades do Enic. A palestra de Mattos será em 16 de maio. O resto da programação será divulgada nos próximos dias.
Empreendedor, educador e autor, Mattos faz parte do corpo docente da Singularity University, sendo o único sul-americano entre 110 nomes com tal distinção. É, também, professor da disciplina de Futurismo no Trans-disciplinary Innovation Program da Universidade Hebraica de Jerusalém.
Suas ideias sobre futurismo já foram ouvidas por audiências na América do Sul, América Central, América do Norte, Europa e Ásia. No Brasil, já ajudou boards e CEOs de algumas das maiores empresas do país.
Mattos é formado pelo Global Solution Program 2012 da Singularity University, projeto da NASA e do Google que, ao longo de dez semanas, compartilha aprendizados sobre inteligência artificial, robótica, nanotech, biotech, engenharia espacial e impacto positivo. Apenas 80 pessoas por ano são selecionadas para a iniciativa, que tem como critério a capacidade de impactar um bilhão de pessoas em até dez anos.
Ele também participou do Transdiciplinary Innovation Program (TIP), onde teve oportunidade de ouvir e interagir com 14 vencedores do Prêmio Nobel.
Mattos aprofundou seus conhecimentos sobre futuro do trabalho em diversas imersões rápidas nas escolas mais respeitadas do mundo, como o Massachusetts Institute of Technology (MIT), Harvard, Institute for the Future, entre outras.
Seu livro, 'Vai lá e faz', figurou entre os dez títulos de negócios do Brasil, já na primeira semana de publicação. Mattos também é co-fundador da Perestroika e de outras iniciativas empreendedoras, como laboratórios de big data, empresas de software, plataformas digitais, coworkings, consultorias e muito mais.
A palestra tem interface com o projeto da CBIC "Tendências e inovação na Construção", em correalização com Serviço Nacional de Aprendizagem Industrial (Senai Nacional).